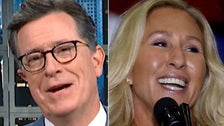 Stephen Colbert and his "Late Present" crew got here up with a joke so bawdy, they couldn't even present it on TV. And it was aimed toward Rep. Marjorie Taylor Greene (R-Ga.) or, as Colbert referred to as her, the "cursed doll customary from foolish putty and hate."
Greene just lately griped about electrical vehicles ― claiming they "emasculate" drivers ― and slammed Transportation Secretary Pete Buttigieg for selling the automobiles.
Colbert mocked Greene by imitating her.
"He thinks electrical vehicles ought to use the identical loos as gas-powered vehicles," Colbert mentioned.
Buttigieg additionally fired again at Greene this week.
"I actually don't even perceive what meaning," he said on Fox News. "My sense of manhood shouldn't be linked as to if or not my car is fueled by gasoline or whether or not it's fueled by electrical energy."
However Colbert's crew took her feedback even additional by making a mock advert for the Pontiac Schvantz ― a automotive so "masculine" they needed to pixelate it to indicate it on tv: